Commercial Property
Commercial Safety doesn't happen by accident.

COMMERCIAL PROPERTY SAFETY
Each type of commercial property presents unique populations, regulations and building layouts, making every fire escape plan a one-of-kind design. A building's populace can range from residents, families, office workers, and the general public. With such a vast populace of people and layouts, every type of structure should prepare for a fire, security threat and overall emergency of any kind (specific to location).
FIRE EVACUATION MAPS FOR COMMERCIAL PROPERTIES
One area of our expertise at Building Maps is commercial property, ranging from office buildings, retail space, and apartments.
LEISURE SPACES: HOTELS, RESTAURANTS, AND CAFES

RETAIL: STORES, SHOPPING MALLS, SHOPS

OFFICES AND APARTMENTS BUILDINGS
According to the NFPA, there are approximately 3340 fires per year in general office buildings throughout the U.S. These fires create over $100 million in damages, and can result in serious injury or death.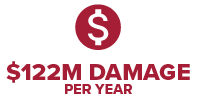 COMMERCIAL SAFETY PREPARATION & LIABILITY
One of the most common reasons that fire escape signs are not up-to-date and there is no emergency exit plan is because those who are responsible, did not know it. As silly as this excuse may sound, it is a typical liability case, after emergencies have already taken place.
In most states, and under OSHA or NFPA regulations, building evacuation maps are the responsibility of property owners, landlords, and tenants. Property owners and landlords are responsible for shared or public areas like lobbies, staircases, and hallways. Most importantly, it is their job to make sure everyone can find exits or safety in any emergency situations. Tenants are often held responsible for the space they rent.
However, no matter the role, if you are ever unsure of a fire evacuation plan or emergency exit map, make sure it is accurate and up-to-date.
WHY WORK WITH BUILDING MAPS?
Our team of illustrators and safety professionals has designed fire evacuation maps for multiple leisure spaces, retail shops, and office buildings. We understand that each location is unique and that we need to fully understand the properties layout, structure, function, and populace. Most importantly our design will meet all regulations, ensuring that each map provides the best route to safety.