Safety Maps for schools
"School Evacuation Mapping should be a well thought out collaboration between fire safety experts and the school."  — Tony Jones, CFPS

SCHOOL MAP DESIGN; FIRE & SECURITY
Schools have always had the responsibility to provide a safe, secure learning environment. But threats to the safety of the school environment have changed. There is an ever-increasing need for schools to plan and prepare for such threats and emergencies. At Building Maps, our mission is to ensure that every school well prepared for any safety or security emergency. Through our knowledge and experience, we've learned that every school is unique, which makes creating school maps, fire evacuation plans, and security contingencies a unique challenge. No two schools are alike—each one a different floor plan, safety equipment, and fire egress routing needs. At Building Maps, we specialize in creating fire evacuation maps and security maps for schools.
We created thousands of evacuation and security maps for schools just last year.  Let's talk.
School Fire Evacuation Maps
Our office designs school fire evacuation maps that provide staff, students and visitors with a clear path away from danger in an emergency. Our designs are highly legible; clearly depicting building egress routes, exits, fire pulls, and more. These maps are also an important informational tool used for fire drill planning.
School Security Maps
We also design school security maps. Our objective is to provide schools administration and local public safety with information needed in a security event. These maps are customized to the specific needs of the school. Often this includes the additional labeling of stairwells, hallways, utility shut-offs, security control panels, etc.
Our staff can provide information on fire codes and standards. We can also explain to you how safety maps are being used by other school systems to prepare for emergencies.
WHY SCHOOL MAPS NEED TO BE UP-TO-DATE
There were approximately 24,900 structure fires in educational properties between 2011 and 2015. That's 4,980 fires a year in educational properties nationwide, creating up to $70 million in damages (Richard Campbell (September 2017) National Fire Protection Association).  Furthermore, there has been over 23 school shootings so far in 2018 (As of July 31, 2018) (According to CNN). No one wants the unthinkable to happen, but unfortunately, these events occur, and their regularity is growing. Planning and risk assessment help us prepare for fire and security threats before they happen.
Up-to-date school maps aid in emergency evacuation or lock-down drills.  Typically, when there is a fire you evacuate.  When there is a security threat; you lock-down.  These are two completely different scenarios.  Safety maps assist prior to an event; not just 'at the time' of an event.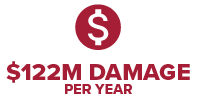 SCHOOL MAP DESIGN & REGULATIONS
When creating school, evacuation, or security maps, illustrators must map the building carefully, and follow OSHA and NFPA regulations. Also, any state or federal regulations, which vary by location, education level, and structure. If all rules and guidelines are not met, in any case of death or injury, administrators may be liable for not meeting requirements. When creating fire evacuation maps for any building, many factors need to be considered.  Fire codes and standards are an important part of the creation of school evacuation maps.  But if the code is not specific about how to create an evacuation map, what do you do?  In these cases, it is best to ask your local fire marshal or fire evacuation mapping expert.
SCHOOL MAP FEATURES
What do you need on your evacuation map?  Every school building is unique, and the usage of each building is unique.  Nonetheless, there are some common characteristics of a school evacuation map.
School fire evacuation map features:
Fire Exit Doors
Primary and Secondary Egress Routes
'You Are Here' Location
Fire Pull Locations
Easy-To-Read Floor Plan
Stairwells Identified
School security map features:
Easy-To-Read Floor Plan
Exit/Entry Locations
Higher Level of Labeling
Building Mechanicals and Shut Offs
HAVE CONFIDENCE WITH BUILDING MAPS
Our office has created thousands of school safety maps, in  just last year. We are eager to assist both large and small school districts!
WHY CONSIDER BUILDING MAPS?
Safer Maps
Why?  Because we are THE fire evacuation mapping experts.
No Lost Files
Why?  We save and back-up your evacuation maps, so that they are never lost.
Faster Map Creation
Our people, software, process and experience can quickly create your maps.
Easy Updates
When you need a change simply fill out an online form…or give us a call.
No Software or Training Needed
No need to purchase software and learn how to use it.
Map Orientation
Can you easily 'orient' each wall map?  We can. (Important)