What are Security Maps?
Security maps are highly detailed maps used by internal staff to prepare for and respond to emergency situations. With a higher degree of detail than standard floor plans, security maps are a valuable tool for training security personnel, planning events, and quickly responding to emergencies.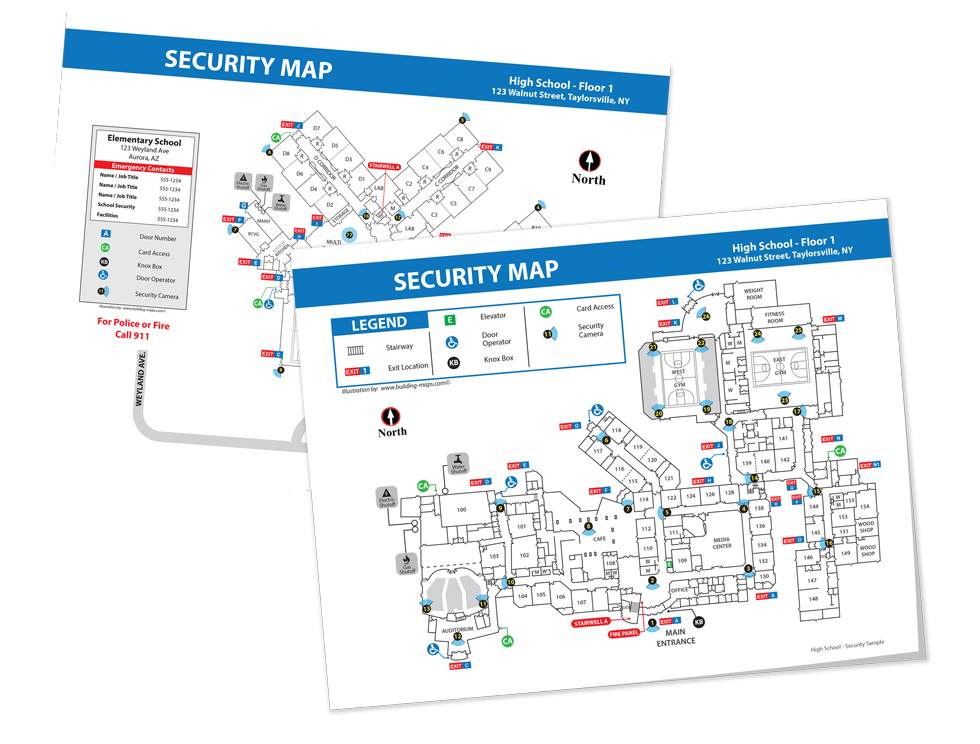 Who Will Use a Security Map?
Security Maps are often used by building security and local police departments. Security maps should not be available for public viewing. Instead, they are used by internal staff to plan for and respond to security threats, and are useful for training exercises or planning security for large events. In the event of an emergency, security maps help guide evacuations, implement a lockdown, or lead emergency personnel through a building.
Applicable Industries
Security Maps are an important part of your Emergency Operations Plan (EOP). Publicly accessible buildings with a constant volume of guests or employees commonly utilize these maps for training security staff and planning event security. Buildings that may benefit from a security map include schools, manufacturing plants, retail spaces, office complexes, event venues, banks, hospitals, and law enforcement offices.
Security Map Features
Security map features will vary by the facility or building type, but each should include relevant and up-to-date information. Common features include:
Accurate Floor Plans
Exit/Entry Locations
Camera Locations
Hallways and Stairwells Labeled
Alarm Control Panels
Water, Electric and Gas Shut-Offs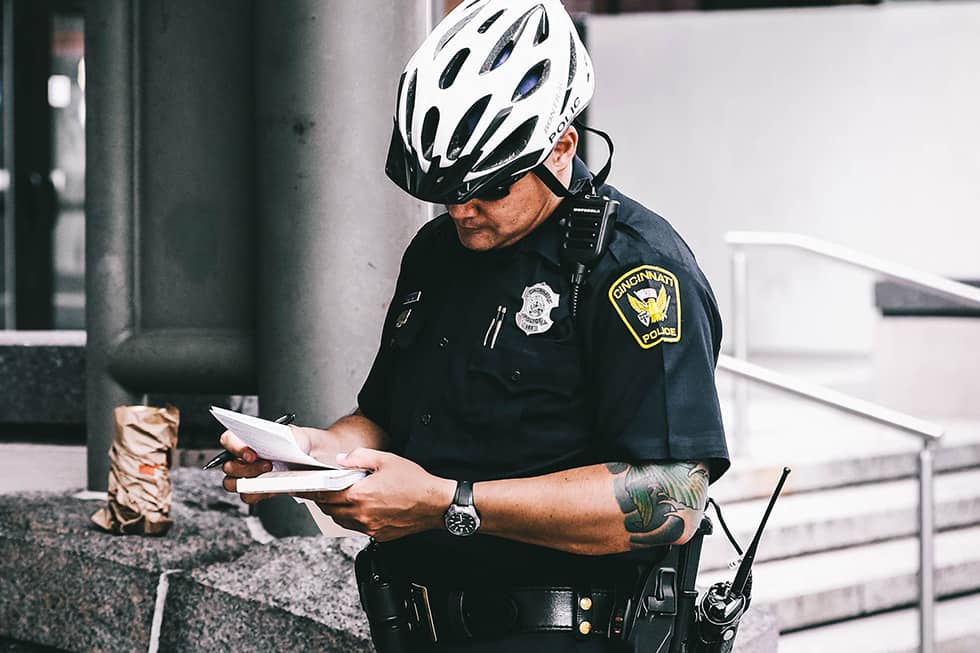 Security Map Design
A security map must be customized for your building and your security needs. Our team has experience creating and maintaining detailed and accurate security maps. We can help you plan for and respond to your security challenges. Here are a few different kinds of security maps we can customize for you.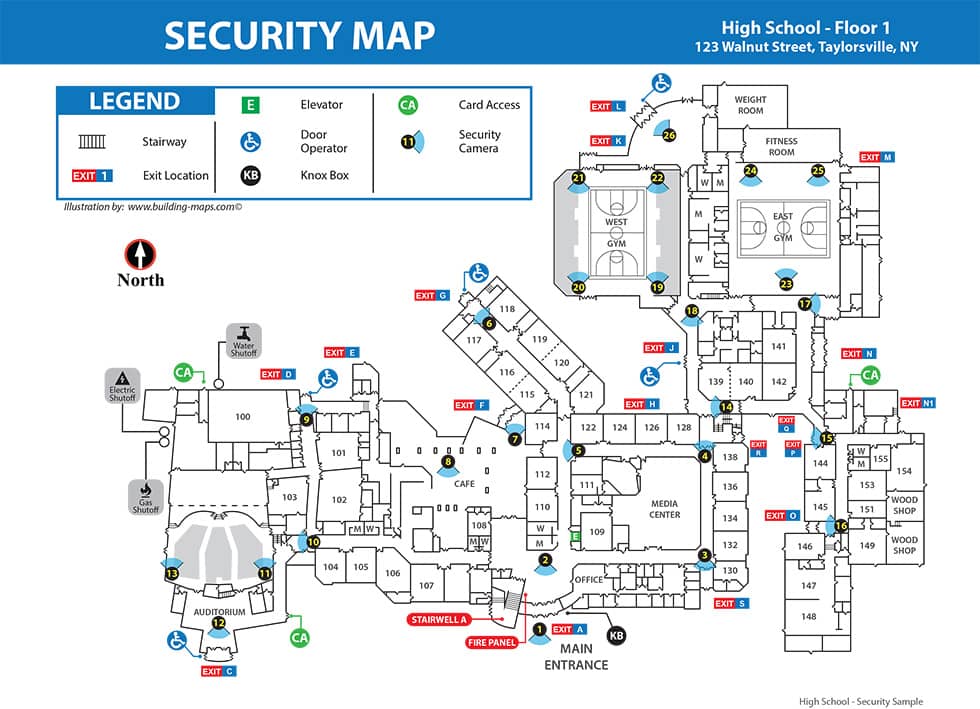 Standard Security Maps
Highly useful for security departments, these maps reflect your building or campus' security equipment such as camera locations and police pulls.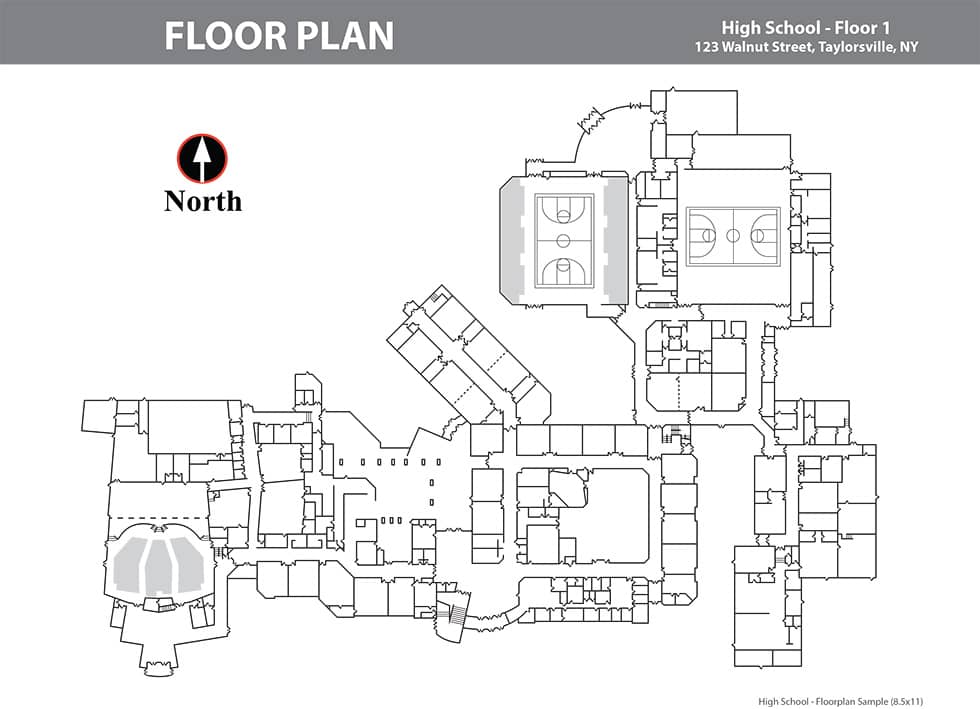 Floor Plans
Our team of trained illustrators will transform your building's blueprints into a clean and versatile floor plan usable for emergencies.