It is generally understood that Campus Maps are used for wayfinding, but oftentimes they are overlooked as an important part of security and emergency planning. The truth is these maps are multi-purpose and can be utilized in a variety of ways. Campus maps typically show a collection of buildings, roads, parking lots, and other information relevant to finding your way around, but they are also beneficial for security purposes and asset tracking. Read on to learn more about the situations where these types of maps are used and who benefits the most from using them.
Wayfinding
Known as a Campus Directory or Campus Map, the main purpose of these maps is to provide some form of direction. These maps are used by visitors, employees, and customers who need to know how to get from one place to another, and they are essential tools for making campuses navigationally friendly. Regularly found on websites, mobile apps, and printed materials, these directories are invaluable to anyone, regardless of their familiarity with the location. Even those who have worked on a campus for several years may need to access a previously unknown area, rendering such information beneficial to all.
Emergency Planning
While you may initially think of a campus map as only a directional tool, there are plenty of instances where they are used for Security. Hospitals, Office Parks, Manufacturing Campuses, and Schools use Campus Maps to plan for a wide range of emergencies. Potential ways to employ maps in this manner include:
Fire Hydrant Locations
Security Camera Locations
Assembly Areas
Exterior Door Numbering
Fire Lanes
Reunification Parking
Utility Shutoffs
School Bus Routing
…and more!
One of the most crucial times to have access to a Campus Security Map is when you have very little time at all. Emergencies often arise without warning and losing seconds or even minutes can cost you dearly. By planning ahead with a thorough security map, you can focus on the situation at hand, allowing you to take whatever action is needed without wasting time as you attempt to gain your bearings.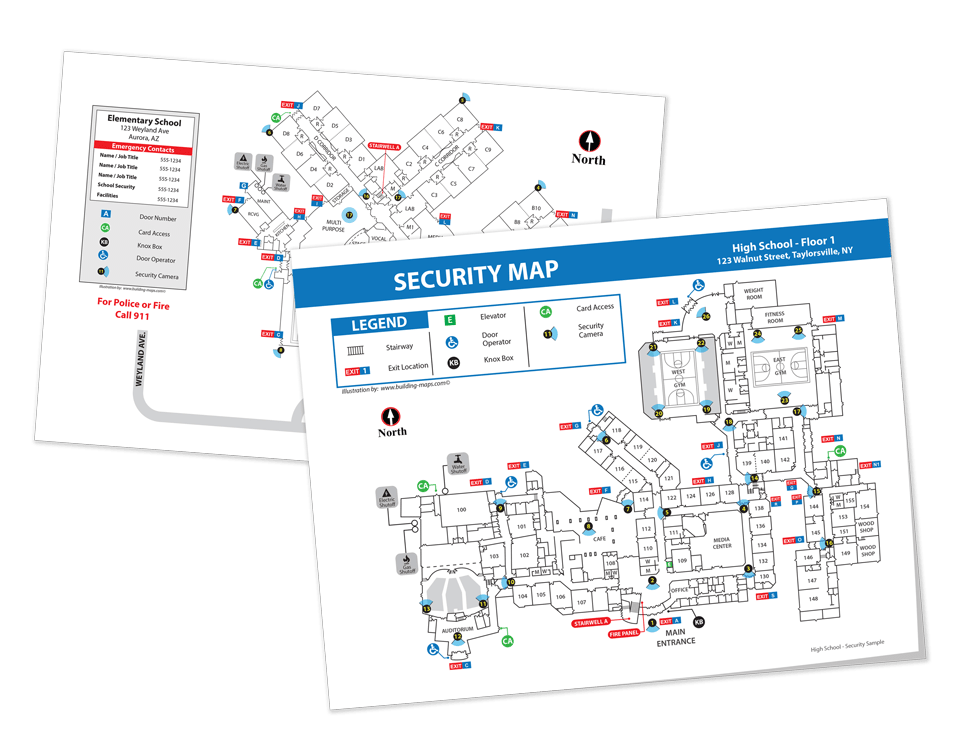 Who Will Use Campus Security Maps?
Although no outside organizations currently have set standards for campus and security maps, our team has a wealth of experience in the area and we're here to share our best practices with you. As organizations prioritize safety and efficiency, campus maps have become an essential part of Emergency Action Plans (EAPs) or Emergency Operations Plans (EOPs). Some of the people that like and use Campus Security Maps include:
Corporate Security
Campus Security
911 Dispatch
Local Police
First Responders
Fire Department
This is by no means an exhaustive list, however, as safety should be a concern for all. Click here to learn more about Campus Security Maps and how they can address your organization's specific needs, as well as to request a personalized quote. Each map is uniquely produced to custom fit your campus and our experts work closely with you to create a design that highlights all necessary features.
Whether you're a university, hospital, production plant, or apartment complex, if you're a large campus or a multi-building facility you should have security maps readily available to your visitors and staff, alike. Be sure to contact us if you need any additional insights. Our highly trained team is here to assist you.